Get to know our Hotels
Abama Hotels
resort
Abama Resort Tenerife is located in a privileged and uncrowded corner of the southwest coast of Tenerife, called Guía de Isora. At the foot of the Teide volcano and 200 m above the sea surface.

The resort offers panoramic views of the island of La Gomera and the Atlantic Ocean from every angle and is surrounded by lush subtropical gardens and palm trees, as well as an 18-hole golf course designed by Dave Thomas.

Its two 5* hotels, Las Terrazas de Abama Suites and Los Jardines de Abama Suites, feature modern suites and luxurious villas fully furnished with every comfort, including a high-end kitchen.

With one, two, three or four bedrooms, private terrace or garden and even a hot tub or private pool, each Abama Hotels suite and villa is a sanctuary of peace and tranquility.

Its common areas include 5 heated freshwater outdoor infinity pools, 7 professional tennis courts, 4 paddle tennis courts and the MELVIN restaurant, under the direction of Martín Berasategui (Chef whose restaurants have 12 Michelin Stars).

And for the little ones, Kids Camp Abama, +2000 m² (+21500 sq. ft.) of outdoor space with tents and educational activities related to the environment.

Enter Abama Hotels. Feel the spaciousness and tranquility of the environment, full of palm trees and subtropical vegetation, facing the Atlantic Ocean.
It has two 5* Hotels

with luxury suites and villas. With the option of gardens, terraces with hot tubs and private pools.

Its MELVIN restaurant

bears the stamp of Martín Berasategui. Spanish chef whose restaurants have 12 Michelin Stars.

1 km away is Abama Beach

with golden sand and FREE shuttle service, only for Abama Hotels cutomers.

It is surrounded by a renowned

18-hole golf course designed by Dave Thomas.

From all suites and villas

you can enjoy views of the Atlantic Ocean and the island of La Gomera.

It has 7 Flexi®-Pave professional tennis

courts and 4 paddle tennis courts. 24-hour fitness gym.

Its 25,000 palm trees

are distributed among tropical gardens in the form of a labyrinth.

Commitment to sustainability.

It uses 100% desalinated water and fertilizers based on vegetable leftovers.

The Guincho can be sighted.

An endangered species of osprey and more than 20 different bird species.

It has 5 heated freshwater infinity pools,

and one designed for children.

It offers a babysitting service

(upon request and with an extra charge).

Wifi is free

throughout the resort.

Laundry service is available

(at extra charge).

Parking is private,

covered, guarded 24 hours and free of charge.

It has adapted facilities,

almost completely barrier-free.
The 18 holes of the Abama Golf course distributed in Abama Resort Tenerife
Hotels with suites and luxury villas
For a 5-star break in the southwest of Tenerife
discover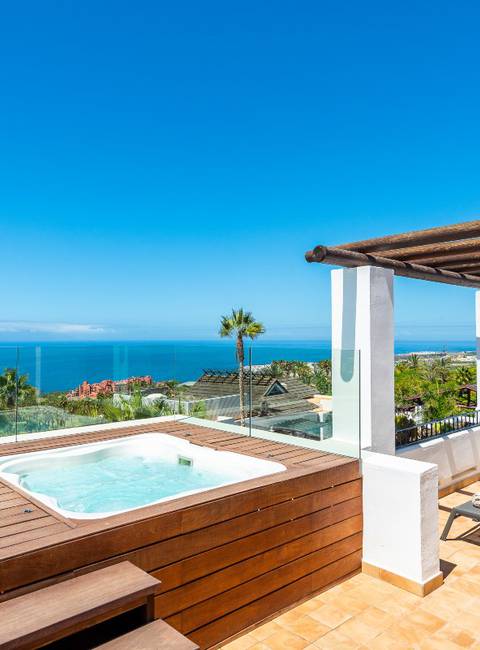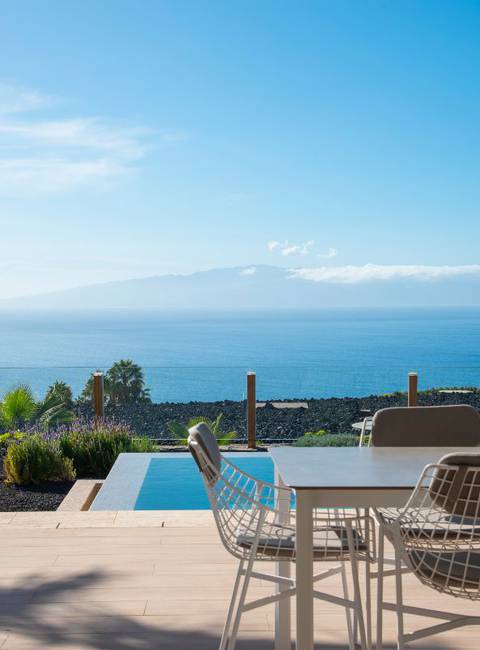 Why choose Abama Hotels?
Because it is a luxury resort designed for families, couples, golf and tennis lovers looking for a quiet place, with privacy and minimal interaction, but with a close, personalized and high quality service.

Because its exclusive suites have an optimal distribution with large terraces and private garden (some with hot tub) for a relaxed and quiet stay.

Because the independent villas, with the option of a hot tub or private pool, allow you to isolate yourself and enjoy a vacation with 5* services in privacy and without having to go through the common areas of the complex.

Because Abama Hotels is synonymous with tranquility, silence and peace. Ideal for disconnecting from everyday life away from the crowds.

Because it has 5 gastronomic offers to delight your palate, from breakfast in the most international style to dinner, with the seal of Martín Berasategui.

Because it has 5 outdoor heated freshwater infinity pools in different areas and a special one for the little ones.

Because Abama Hotels are 160 hectares of open spaces with gardens, palm trees, native plants and more than 20 species of birds (including one in danger of extinction).

Because it is located in a golf resort that can be enjoyed all year round and has the perfect orientation: sun all day long and a spectacular sunset with the island of La Gomera in the background.

Because it has professional outdoor sports facilities: an 18-hole golf course, 7 tennis courts and 4 paddle courts.

Because there is a special place for the little ones, called Kids Camp Abama. An outdoor children's camp with tents, surrounded by nature and activities to awaken their imagination while they learn.
ABAMA HOTELS Y MY WAY HOTELS & RESORTS - MEANINGFUL HOTELS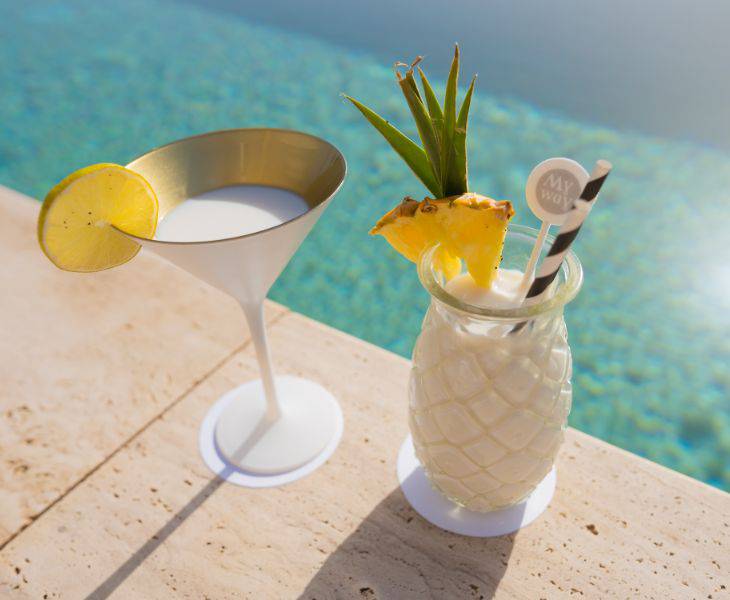 4 Basic principles:
• Sustainable and efficient resource management
• Socioeconomic benefits for local communities
• Benefits for natural and cultural heritage
• Reduction of negative environmental impacts
Abama Hotels y My Way Hotels & Resorts
Abama Hotels is managed by My Way Hotels & Resorts.
A collection of hotels with soul, which aims to generate relevant impacts beyond the traditional vacation experience.

Our purpose
Focused on achieving the well-being of people and the planet My Way Hotels & Resorts is a business with a soul that wants to generate relevant impacts for its customers, stakeholders and employees.

That is why it is committed to sustainability as a cornerstone, adopting sustainable management principles (economic, social and environmental) and complying with international standards.

My Way Hotels & Resorts is the hotel's response to the new sensibility of conscious travelers, those who seek leisure and relaxation while remaining true to their values.

The dream of the Abama Hotels team is to turn the resort into a paradise for its visitors and the best Resort in Europe.


Abama Resort Tenerife fact sheet
2005

Creation of the golf course

2019

Completion of Las Terrazas de Abama Suites (151 Suites)

2021

Construction of Los Jardines de Abama Suites (Suites under construction)

2022

under construction Abama Plaza

2022

under construction Las Villas del Tenis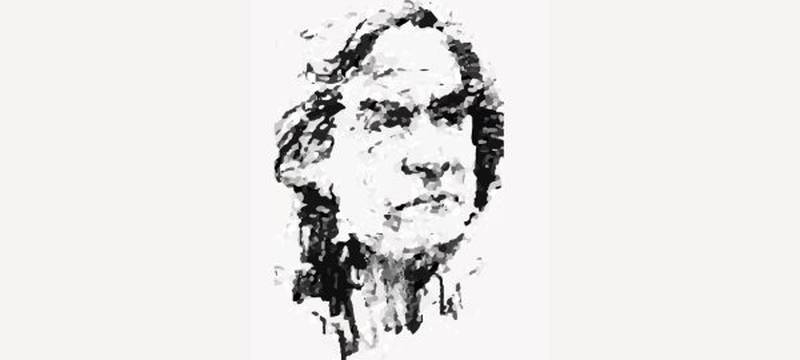 MELVIN- a tribute to its creator
MELVIN Villarroel, a world reference in residential architecture, was the architect who designed the tourist area where the Abama Resort Tenerife is located.

His goal was to give it its own personality, respecting the environment as much as possible so that it would last over time.
He also designed Las Terrazas de Abama Suites inspired by the ancient architectural roots of a Moorish city.

As a tribute to its creator, who left us in 2010, the MELVIN restaurant bears his name.


Find out more interesting facts about Abama Resort Tenerife
- 160 hectares of Resort
- 60 hectares of golf course
- +55 thousand m² of landscaped areas
- +25,000 palm trees
- +300 species of subtropical plants
- 23 lakes
- 2 5* hotels
- Own desalination plant 100% self-sufficient.
- +20 species of birds that can be seen regularly in the Resort including the endangered Guincho (osprey).
- 5 swimming pools: 4 adults and 1 children's freshwater pool with an average temperature of 27ºC.
- Melvin Restaurant by Martín Berasategui. Capacity up to 90 diners.
- Pool Bar, Zumeria and Gourmet shop.
- Kids Camp (+2,000 m²)
- 7 professional tennis courts and 4 paddle courts.
Frequently asked questions about
ABAMA HOTELS
Does Abama Hotels accept pets?

Although we are animal lovers, we are sorry, but the resort's policy is not to accept pets in any of the resort's facilities.

Where are the hotels of Abama Hotels located?

This is the address you have to type in your browser: Calle Pino Ojeda n.º 4 - 38687 - Guía de Isora. Tenerife, Spain.

What boarding facilities do you offer?

We offer three: accommodation only or accommodation, breakfast included and half board (includes breakfast and lunch or dinner a la carte drinks not included, some dishes may have a supplement).

Where can I see the availability and prices of Abama Hotels?

On every page of the website you can see some boxes that say: "select a hotel or destination". Enter the date and the hotel you prefer to check availability and find out the latest prices.

Do you offer prices for agencies or groups?

Yes, we do. As an agency you can register on our website at the bottom of the page in the Agencies section. And if you need a price for groups, please contact us directly from here.

Is it possible to buy properties in Abama Resort Tenerife?

Yes it is possible, here you have more information enlace.

Are you part of The Ritz-Carlton, Abama?

Although the name is similar, we are different companies.

What are the check-in and check-out times?

Check-in is at 3:00 pm and check-out until 12:00 noon.

Is the use of the WIFI free or paid?

You can connect to the WIFI throughout the complex for free and instantly. No password is required.

Where can I find Abama Hotels on Google maps?

You can do it directly from this Puedes hacerlo directamente desde este link..

How to get to Abama Resort?

From Tenerife South Airport (TFS) it is 30 km (35 min approximately), from Tenerife North Airport (TFN) it is 96 km (75 min approximately).
From the port of Santa Cruz de Tenerife it is 100 km (approx. 60 min), from the port of Los Cristianos it is 20 km (approx. 30 min).
By plane: the nearest airport is Tenerife South (TFS).

Is the gym free of charge?

Yes, there is no charge for Abama Hotels guests.

We have a covered, guarded and free parking.