Zumeria Bar
Have a healthy juice by the pool while your body recharges vitamin D from the sun.
taste
The Stress Down juice: perfect for you to take your time savouring this rich concoction that mixes the sweetness of apples and strawberries with a touch of freshness provided by the kiwi fruit.
If you prefer to recharge your vitamin C while sunbathing (which provides you with vitamin D), Orange Love juice is your best choice. With freshly squeezed oranges, carrots and apples.
And if you are a tropical fruit lover, the Terrazas Shot juice will surely not disappoint you with its intense pineapple flavour, mixed with the sweetness of apple and the indisputable taste of passion fruit.
These are just a few examples of the juices and cocktails you can sip from 12:00 pm to 6:00 pm while you dive into the infinity pool.
Schedule:
Monday to Sunday (12:00 p.m. to 6:00 p.m.)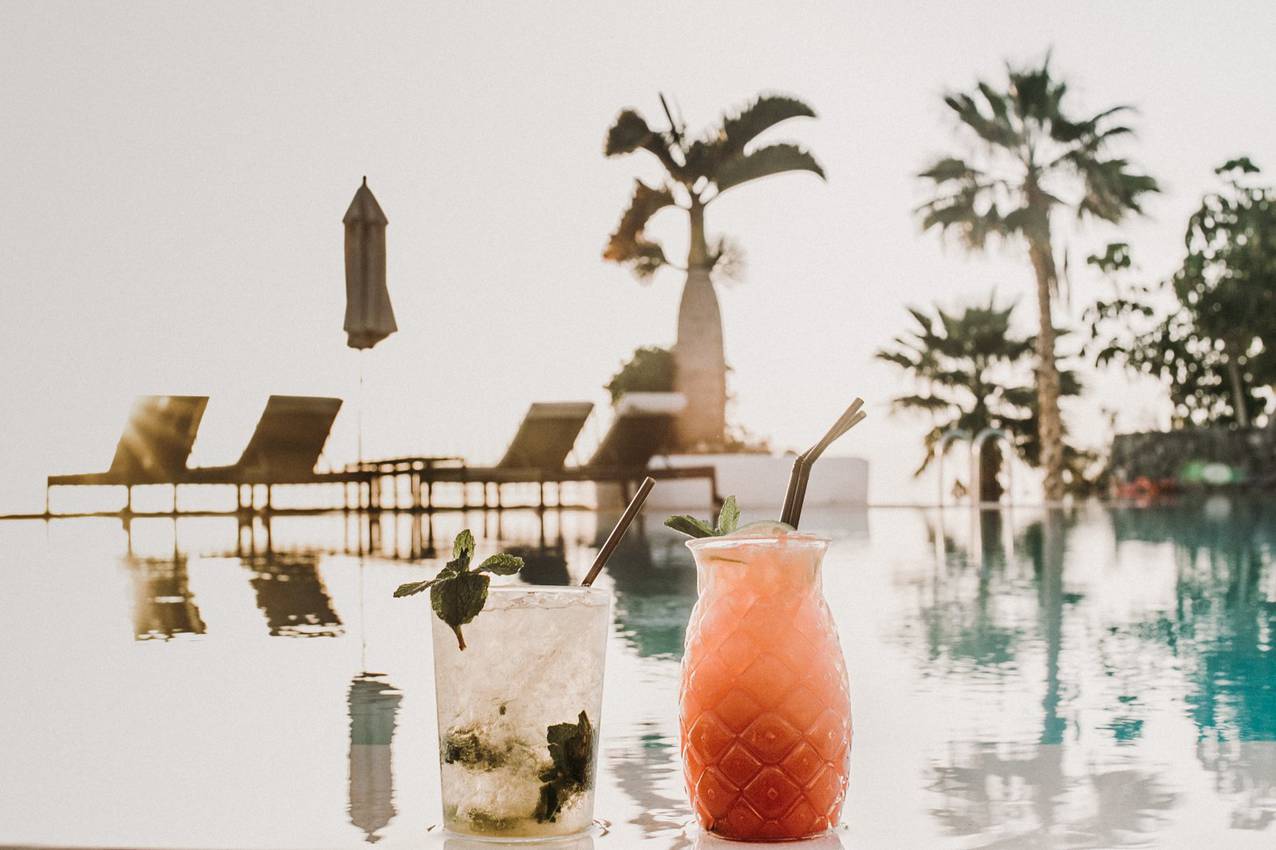 Enjoy the pleasure of our flavors
subtitle-restaurant-capricornus
paragraph-restaurant-capricornus

"Taste something different,"Las Terrazas Shot", the most tropical juice you have ever tried. Sweeten your senses with the classic Aperol Spritz, our guests' favorite".
ZUMERIA MANAGER

Frequently asked questions about
ABAMA HOTELS
What type of clothing is recommended for dinner at MELVIN Restaurant?

We recommend that you wear casual or smart casual clothing. Please note that it is not allowed to come in swimsuits or beach sandals.

Can children come to MELVIN Restaurant for dinner?

Children are always welcome.

Do you have children's menus at MELVIN Restaurant?

Yes, we do. MELVIN Restaurant has a creative menu prepared especially for young diners. It is available at the top of this page.

Do I have to make reservations in advance to dine at MELVIN Restaurant?

It is highly recommended that you reserve your table in advance. At least 24 hours in advance.

You can do it directly from the top of this page.

What is the maximum capacity of MELVIN Restaurant?

MELVIN Restaurant can accommodate up to 90 diners.

Can I order more than one hot dish for breakfast?

Yes, of course. The supplement for the second choice is 5 € per plate.

What if I am allergic or have a special diet?

In case you have a special diet, food intolerances or allergies (e.g. nuts), it is best to tell us as soon as you arrive at the restaurant, so that the staff can help you choose the most suitable menu.

Can I have breakfast at MELVIN even if I am not a guest of Abama Hotels?

Is it possible to order breakfast in the room?

At the moment this service is not available.

Can I place an order for fruits and vegetables at the GOURMET shop to be delivered to my suite or Villa?

Yes, we have a delivery service for organic fruits and vegetables. To arrange this, just call the front desk of the Hotel Las Terrazas de Abama Suites.

Is the GOURMET STORE open to all public?

Yes, you can come and visit us and buy Canarian products even if you are not staying at Abama Hotels.

A tip: become a member of myABAMA club and get a 5% discount on your purchases in the GOURMET shop.

Can I shop at the GOURMET Shop at any time?

Yes, the store is open 24 hours a day.