Kids Camp Abama Hotels
What is special about Kids Camp Abama?
fun





Abama Hotels was inspired by summer camps to create a concept of children's holiday entertainment unlike anything you've seen before.

Do you remember summer camps when you were little?

The ones where you didn't stop doing activities in the middle of nature, you played with sticks, ropes and leaves, you learned about science without realizing it and your creativity had no limits.

That's Kids Camp Abama .

More than 2000 m² (+21500 sq. ft.) of open space, surrounded by native vegetation, such as banana trees typical of the Canary Islands, and the green mantle of the golf course, for your children to play, learn and breathe fresh air.

No video games, no technology adapted to the games, nor a diaphanous place inside for children to entertain themselves.

Abama Kids Camp is synonymous with nature and learning.

With tents in the most "camper" style where every hour the children carry out programmed activities in which they learn values, work on their creativity and let their imagination run wild.

That's why the Abama Hotels Kids Camp is more than a Kids Club.
It is located in a space

of more than 2000 m² (+21500 sq. ft.) outdoors and surrounded by nature.

It is ideal for children

from 4 to 14 years old. Everyone participates and interacts

It is designed with tents

to make them feel like real explorers

Offers daily activities

aimed at promoting creativity and teamwork

Languages are not a barrier.

All children are welcome

Meals and snacks included

(except some modalities).

Children receive a reward

when they finish all activities.

No video games

or technology. It's a real camp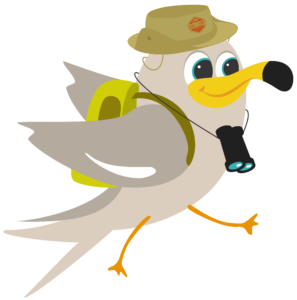 Hi, I'm "Guaña", the KIDS CAMP Abama mascot.

I'm a real bird.

You can find me on the beach in Abama and if you listen carefully you will see how I say my name all the time:

-Guañaaaaa, guañaaaaa!-

I love Tenerife. I spend the day flying over the mountains and the sea, soaring through the skies around the fascinating volcano of Teide.

In this outdoor camp, your children learn interesting facts about the volcano and its magnetic properties. Together, we also discover everything about the stars that can be seen from this island, the constellations and its solar system.

They are sure to tell you all about it later. ;)
How Kids Camp Abama works

The adventure begins when our little explorers receive an explorer's card, which they stamp as they complete the activities.

Little by little they earn badges and at the end, when they have completed all the activities, a great gift awaits them. It's a surprise, of course ;)

There are 8 types of activities in the program:

- Excursions
- Knowledge and culture
- Healthy living and environment
- Sports
- Creative
- Scientific
- Coexistence
- Artistic

Of all these, the most popular are the excursions outside the Abama complex, the meals and the fun evening activities.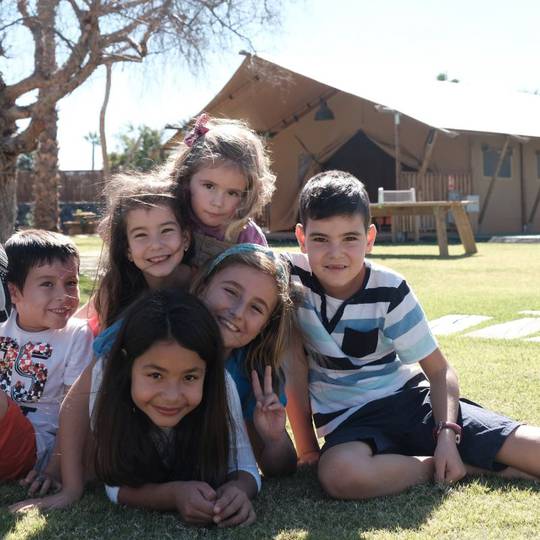 Excursions
We go on excursions beyond Abama Hotels. Sometimes we visit Aqualand, sometimes we go Karting. Each time is different.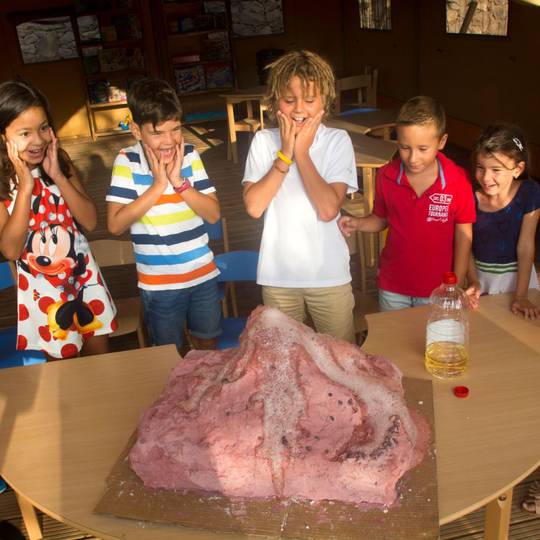 Knowledge & Culture
We go into the world of the Canary Islands to learn about its environment, we are archaeologists for a day, we learn about the solar system and we play with our senses.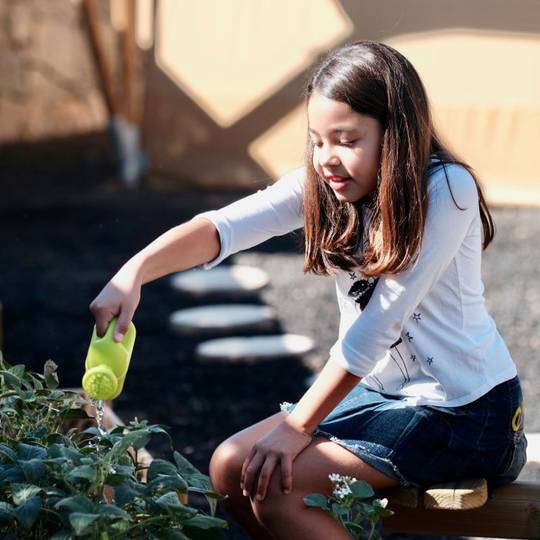 Healthy living and Environment
We spend time observing nature closely and learn to take care of the planet. We plant vegetables and learn about the food pyramid.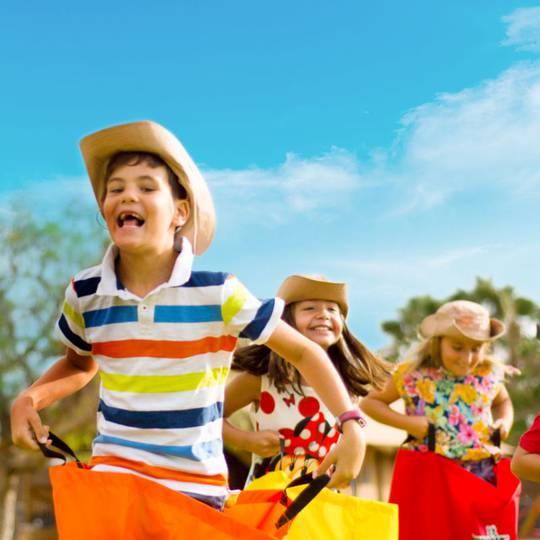 Sports
We play badminton, jump rope, play with the zip line and do a fun gymkhana.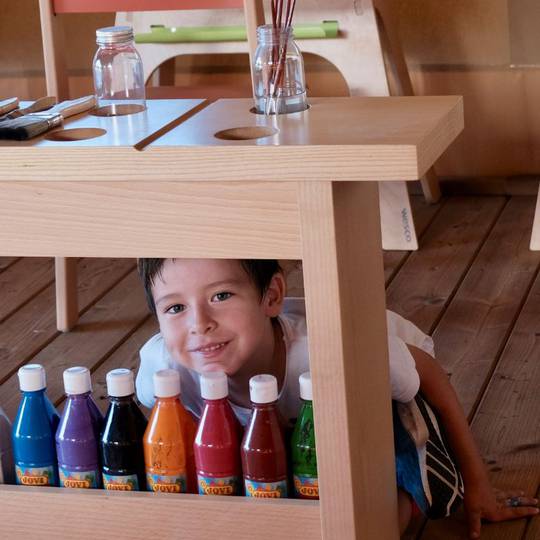 Creatives
Let our imagination run wild to draw pictures, paint with our hands, make a card, play with play dough and make multi-sensory bottles or a dream catcher.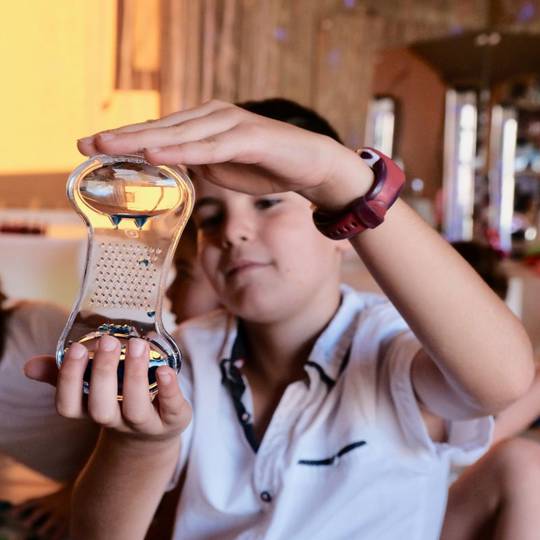 Scientific
We do fascinating activities such as creating a Teide, making a volcano erupt, making candles and playing with electricity (always under supervision).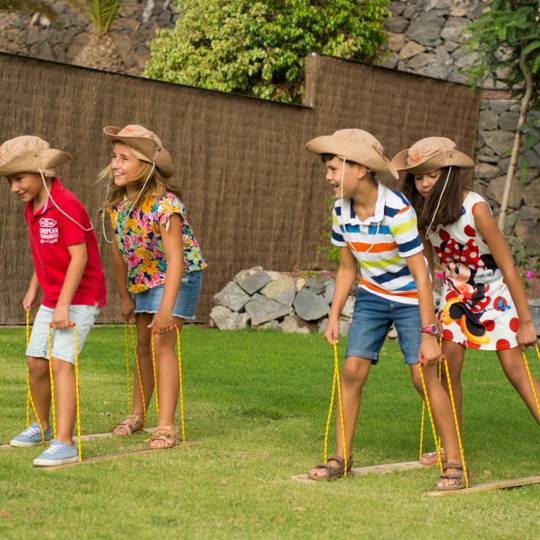 Coexistence
We play party, bingo, the game of UNO and tangram. We also make sand castles.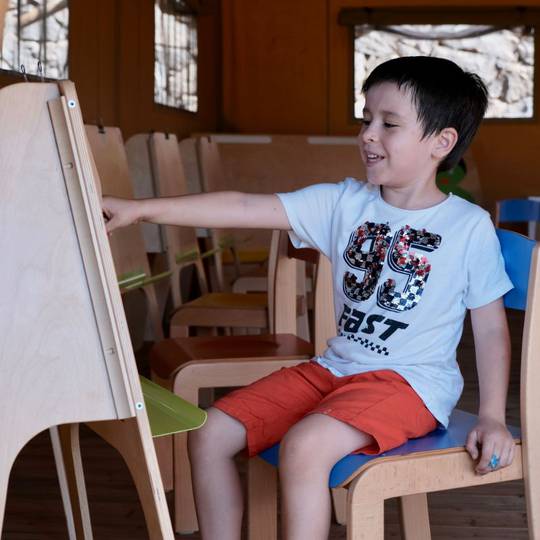 Art
We play musical games, dance and play with hoops. We do not stop moving while we create.
subtitle-generic-aquarius
paragraph-generic-aquarius
A different program every week

Excursions, workshops, workshops, games and sporting activities

At Kids Camp Abama the activities rotate weekly to avoid monotony.

Click above to see our program.
Frequently asked questions about
ABAMA HOTELS
What is the minimum and maximum age for Kids Camp?

Kids Camp is for children from 4 to 14 years old.

What is the price of Kids Camp?

You can see the price list here.

How do I know my children are safe at Kids Camp?

Kids Camp is for children only and no adults or accompanying adults (babysitters) are allowed during the activities, precisely to guarantee the privacy and safety of the little explorers.

What is the Kids Camp schedule?

The schedules are changeable and depend on the season. We recommend you check the weekly schedule, it is usually open every day from 9:00 am to 5:00 pm.

What language is spoken at Kids Camp?

All children are welcome, regardless of the language they speak, because we adapt the games to any language.

What training do the monitors receive?

The monitors receive a training course to know the safety measures of the enclosure, the way of working and the protocols to follow.

Do I need to bring food for my children?

No, you don't. Every day we offer the children two snacks, one in the morning and one in the afternoon. We also have a balanced lunch menu when we are open for the full day (if not included in the package, it is priced at 8€)