Gourmet Shop
In front of the reception of the Hotel Las Terrazas de Abama Suites
taste
Did you know that some 135 grape varieties have been identified in the Canary Islands? Some of its oenological jewels are the volcanic malvasia, the baboso, listán or vijariego. And the fact is that the wines of the Canary Islands are as diverse as each of the islands.
The most curious thing, and that few know, is that a "heroic" viticulture is produced due to the difficulty of its volcanic terrain and the conditions of the orography of the islands.
The wines of the Canary Islands are the result of a manual work, almost artisan and without mechanization that is worth tasting and that, from Abama Hotels, we proudly promote.
In addition to the wines, in the GOURMET Shop, in front of the reception of the Hotel Las Terrazas de Abama Suites, you can also try craft beers, cheeses or Teide honey.
Products used by our chefs of the MELVIN restaurant to prepare delicious dishes with the seal of distinction of the Canary Islands.
Schedule:
Monday to Sunday 24 hours. Lobby bar (from 16:00 p.m. to 23:00 p.m.)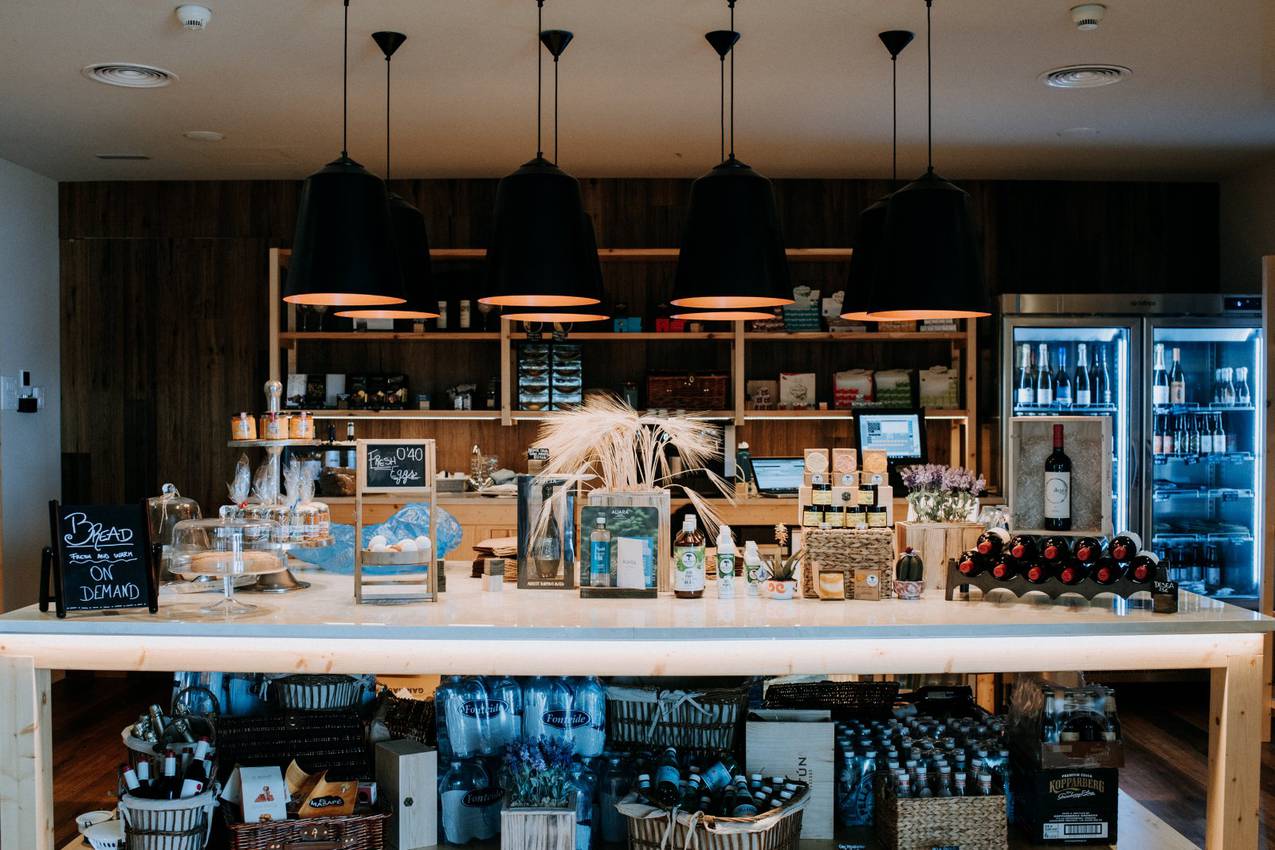 Enjoy the pleasure of our flavors
subtitle-restaurant-capricornus
paragraph-restaurant-capricornus

"In the Gourmet Shop you will find a huge selection of local products from the Canary Islands, taste them and you won't regret it".
GOURMET SHOP MANAGER

Frequently asked questions about
ABAMA HOTELS
What type of clothing is recommended for dinner at MELVIN Restaurant?

We recommend that you wear casual or smart casual clothing. Please note that it is not allowed to come in swimsuits or beach sandals.

Can children come to MELVIN Restaurant for dinner?

Children are always welcome.

Do you have children's menus at MELVIN Restaurant?

Yes, we do. MELVIN Restaurant has a creative menu prepared especially for young diners. It is available at the top of this page.

Do I have to make reservations in advance to dine at MELVIN Restaurant?

It is highly recommended that you reserve your table in advance. At least 24 hours in advance.

You can do it directly from the top of this page.

What is the maximum capacity of MELVIN Restaurant?

MELVIN Restaurant can accommodate up to 90 diners.

Can I order more than one hot dish for breakfast?

Yes, of course. The supplement for the second choice is 5 € per plate.

What if I am allergic or have a special diet?

In case you have a special diet, food intolerances or allergies (e.g. nuts), it is best to tell us as soon as you arrive at the restaurant, so that the staff can help you choose the most suitable menu.

Can I have breakfast at MELVIN even if I am not a guest of Abama Hotels?

Is it possible to order breakfast in the room?

At the moment this service is not available.

Can I place an order for fruits and vegetables at the GOURMET shop to be delivered to my suite or Villa?

Yes, we have a delivery service for organic fruits and vegetables. To arrange this, just call the front desk of the Hotel Las Terrazas de Abama Suites.

Is the GOURMET STORE open to all public?

Yes, you can come and visit us and buy Canarian products even if you are not staying at Abama Hotels.

A tip: become a member of myABAMA club and get a 5% discount on your purchases in the GOURMET shop.

Can I shop at the GOURMET Shop at any time?

Yes, the store is open 24 hours a day.