Savour the delicious gastronomy of the bars and restaurants of the Gourmet Shop
Gourmet Shop Abama Hotels
lives
What does happiness taste like? Find out at the restaurant of Abama Resort Tenerife. An exquisite venue that invites you to try the best of Canarian cuisine at the hands of Martín Berasategui, a renowned Spanish that boasts 12 Michelin stars. Let your taste buds take you on a journey with the exquisite menu on offer and sample a creative selection of the island's dishes whilst watching the beautiful sunsets from the restaurant terrace that overlooks the ocean. Sounds delicious right?
Schedule:
Monday to Sunday 24 hours.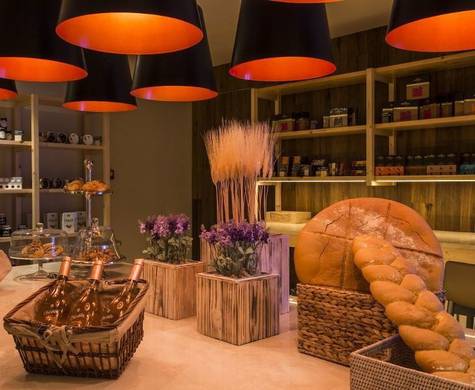 Gourmet Shop
Did you know that some 135 grape varieties have been identified in the Canary Islands?

Some of its oenological jewels are the volcanic malvasia, the baboso, listán or vijariego. And the fact is that the wines of the Canary Islands are as diverse as each of the islands.

The most curious thing, and that few know, is that a "heroic" viticulture is produced due to the difficulty of its volcanic terrain and the conditions of the orography of the islands.

The wines of the Canary Islands are the result of a manual work, almost artisan and without mechanization that is worth tasting and that, from Abama Hotels, we proudly promote.

In addition to the wines, in the GOURMET Shop, in front of the reception of the Hotel Las Terrazas de Abama Suites, you can also try craft beers, cheeses or Teide honey.

Products used by our chefs of the MELVIN restaurant to prepare delicious dishes with the seal of distinction of the Canary Islands.