Abama Golf updates machinery to optimise course maintenance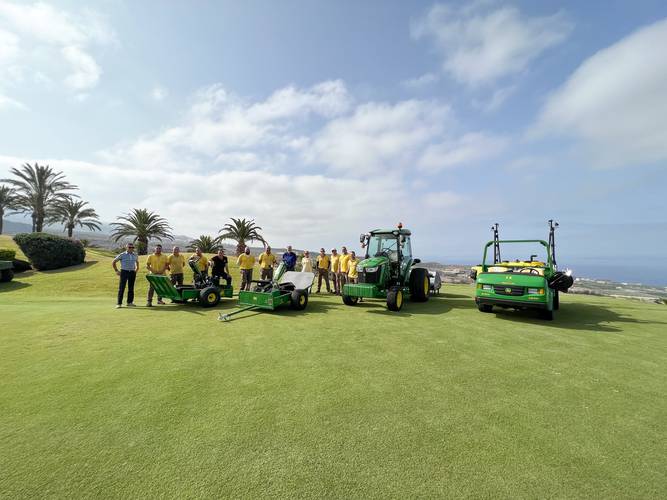 Abama Golf has just received a delivery of new maintenance vehicles, in keeping with its policy of continuously renewing machinery. And once again the famous course located in Guía de Isora on the island of Tenerife, considered by some prestigious media such as Golf Digest as one of the best in Europe, has relied on the American company John Deere, whose distributor in Spain is Delta 5.

"In the coming years we will witness a radical transformation in golf course maintenance machinery, even greater than the transition from the mule to the tractor. Technology will offer us the chance to change our relationship with golf course maintenance, making it more efficient, more sustainable and more competitive," says Brendan Breen, manager of Abama Golf.

The new Abama Golf fleet includes several state-of-the-art John Deere mowers which are noteworthy for their low consumption and reduced noise levels, in compliance with the European Union's environmental regulations.

"We selected equipment that would satisfy the specific needs of Abama Golf, which offer features that are very similar to the more powerful ones, but with lower consumption," says Brendan Breen, who emphasises that this purchase also includes buckets and other tools to improve the production of their own phytosanitary products.

John Deere, which celebrates its 75th anniversary in 2022, not only manufactures machinery for the care and maintenance of golf courses but also produces agricultural and construction machinery as well as diesel engines and transmissions for heavy equipment (axles, gearboxes, etc.).

Among the machinery it offers for sale in the sport sector are greens mowers, fairway mowers, rough, trim and surround mowers, manual and suspended aerators, bunker rakes, sprayers, multipurpose vehicles and compact tractors.

The equipment that Abama Golf has just received will also improve the quality of the turf by making it possible to control the speed, turns and power of each mowing operation, "which will result in greater player satisfaction by keeping the surface in ideal condition," Breen said.

The course designed by the renowned Dave Thomas has established itself among golf lovers as one of the best in the world. "Playing golf here is an unforgettable experience because it is accompanied by a natural environment in which the Atlantic Ocean and the lush vegetation are an added incentive for golf lovers to combine their favourite sport with an idyllic stay in Tenerife. And that is the reason for our total commitment to the sustainability of the turf," adds Breen.