Give the gift of a little slice of Canary Islands paradise this holiday season with Abama Solidaria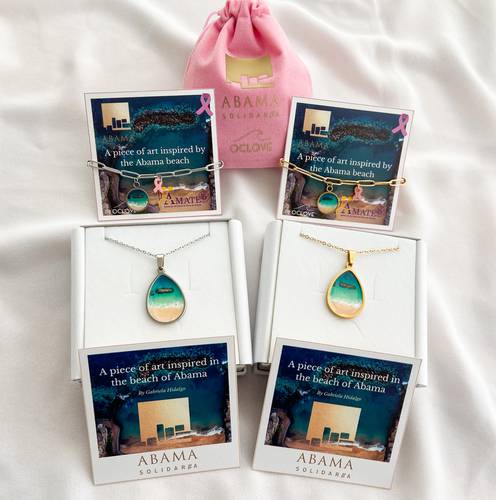 Unique and exclusive designer necklaces and bracelets capture and contain the landscape of Abama's beach in little works of art, available for sale on the company website and at the Las Terrazas de Abama Suites shop

This year, Abama Solidaria once again offers the most idyllic and exclusive gift of the holiday season, for a charitable cause: limited edition OCLOVE jewellery inspired by the beach at Abama. With these items, Abama Resort Tenerife will raise funds for a range of social causes, including the fight against cancer and support for local communities.

Venezuelan artist Gabriela Hidalgo designs each of the necklaces and bracelets that comprise this collection piece by piece, making them one-of-a-kind and completely exclusive. They are inspired by the unique peace and serenity of the seaside, and specifically in this collection, the small coastal cove of the beach at Abama, considered among the most beautiful in Spain.

Rich blues and turquoises, golden sand and an array of nuances make these pieces – available in gold and silver – unique objects capable of conveying dreams and securing memories destined to last forever.

The mission of the artist's OCLOVE jewellery label is to create small works of art contained within the pieces, each one unique and incomparable. Art to transport and display beyond the walls of a museum, hanging from the body as snapshots of nature that bring moments of beauty to life, securing them for history.

With this Abama Solidaria initiative, Abama Resort Tenerife seeks to again support NGOs, disadvantaged communities and different events in a range of ways to promote and raise awareness of socially conscious causes.

You can purchase these pendants and bracelets online at the OCLOVE website or at the physical shop located in Las Terrazas de Abama Suites hotel. The price of the pendants is €52, and the bracelets are €35.

Don't miss this opportunity to give an inspiring traveller's gift.