Yoga Expert Caroline Mason: "When I think of paradise, I think it must be a place like Tenerife"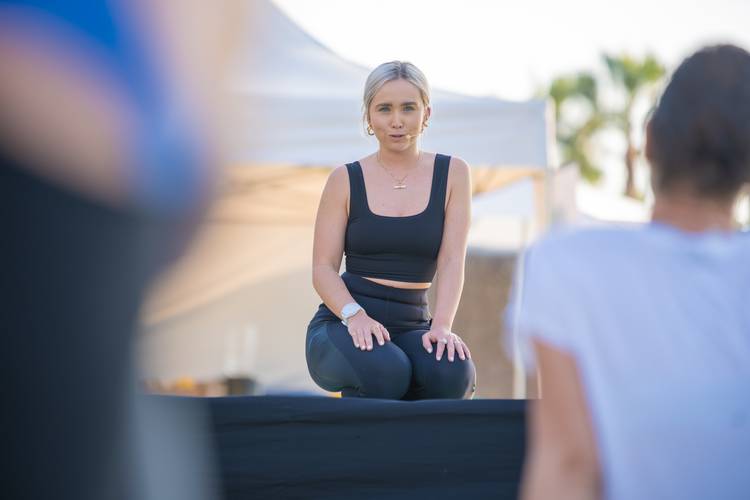 Yoga has become a common practice almost everywhere in the world. The hectic pace of life and growing concern for healing the mind as well as the body have made this ancient discipline from India quite fashionable. So says Caroline Mason (@carolineinspired), one of its 'gurus' in the West, who led a retreat during Abama Wellness Week which was held this week at the Hotel Las Terrazas de Abama Suites, in collaboration with the British firm Yogi Bare. This yoga teacher, who has her own studio and online platform in Nottingham (UK), claims to have found in Tenerife "a place close to my heart. When I think of a yoga paradise, I think it must be a place like this, which transmits tranquillity and peace." The yoga expert has visited the island on several occasions.

"At a certain point in my life I felt I was drowning. I found a lifeline in yoga," she explains, and confesses that she has also found peace. This former primary school teacher says that the secret is in the breathing, the prana in Hindi, "which brings you to the present moment, a powerful energy, a natural painkiller that connects you to the earth, a healing tool that we all possess."

She recommends yoga retreats "in quiet, safe places like Las Terrazas de Abama Suites," where beginners and more experienced practitioners "find a moment of calm, renewal and healing." Her method is based on three pillars: postures (asanas), philosophy and meditation. She says that from her studio in Nottingham and her online classes, "I help people to grow, heal and transform."


About Caroline Mason

Caroline Mason, a personal trainer and yoga teacher, runs her own studio in Nottingham (Midlands - England) and has her own online platform. Mason is passionate about the holistic benefits of yoga, and her vocation is to help people around the world grow spiritually through a combination of physical practice and yoga philosophy, enabling the ultimate transformation of mind, body and soul. Caroline is an ambassador for Yogi Bare and the sportswear brand Sweaty Betty.

About Abama Wellness Week

Abama Wellness Week is an event focused on wellness and healthy habits for Abama Resort Tenerife residents, tourists and self-care enthusiasts. It is held on a regular basis, with different proposals adapted to each season of the year. The agenda includes sport, gastronomy, treatments, therapy and leisure, all focused on promoting healthy lifestyles. It is organised by Las Terrazas de Abama Suites and Abama Luxury Residences.