This weekend, Abama Hotels continues its Wellness Weekends programme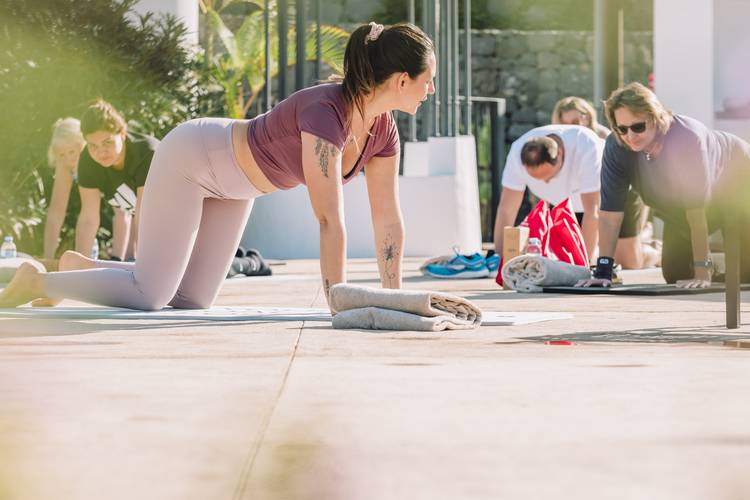 This weekend, Abama Resort Tenerife is organising a full programme of activities to promote this ancestral practice of physical and mental wellbeing among the guests at Abama Hotels and the community of residents at this destination in Guía de Isora, in which men are especially encouraged to participate.

Society is advancing toward equality between men and women and that trend is shown by empowerment of the latter who, fortunately, have gradually set aside their fear of rebelling against impositions and prejudices from the past. However, they are not the only victims of social pressure. "Until recently, the paradigm was that they had to be beautiful and care for their family, while men had to be strong, to be fully involved in their profession and relax with their friends", explains Mili Gentile, a yoga teacher who participates in the 'Abama Wellness Weekends' programme, that links yoga practice with outdoor spaces and nature.

"When I began eight years ago, there were only women in my classes. There are now 40% of men. Many of them come with their partners". Gentile considers that change is due to a process of reviewing masculinity "Men are now less afraid of showing vulnerability. They have understood that expressing their emotions does not drive women away from them, but quite the contrary, brings them closer and allows them to have more conscious relations, in which they may grow together".

Gentile defends that yoga is a tool men may use to work on that emotional transformation. "Women are more connected to their needs and thoughts and seek their own places when they suffer from stress. They listen to themselves and make time". For men, that "might be a sign of weakness", so yoga helps them to improve communication with their partners and "to love each other better, because they used to love but were not connected. They were growing in different directions". Gentile recommends practicing yoga in couples: "It will help them to grow individually, but also to cultivate their relationship".

In fact, she provides the reminder that yoga, a discipline born in India, "was designed by men for men. On the other hand, it first spread among women, but it now appears to be evolving toward equality, as society is doing".

Mili Gentile defends that yoga is a discipline "for everybody" and it breaks myths regarding the fact that "those who practice it are only women, who are also flexible and comply with an aesthetic pattern". Practicing yoga allows us "to see ourselves as unique beings and to begin a transformation of the body and mind, to resolve conflicts with ourselves and recover our self-love. It is a discipline that brings about sustainable, healthy internal changes", she concludes.

The teacher left Buenos Aires in 2015 and continued her training in India and Thailand. After spending some time in Barcelona, she settled in Adeje, where she has her own studio and organises international courses to train yoga students and instructors.

Gentile is one of the yoga teachers involved in the Abama Wellness programmes, which have the objective of favouring the physical and mental wellbeing of Abama Hotels guests, and in which the members of the Abama Prestige Owner's Club (destination luxury apartment and villa owners' association) may also participate.