The south of Tenerife adds more luxury with new private villas at Los Jardines de Abama Suites hotel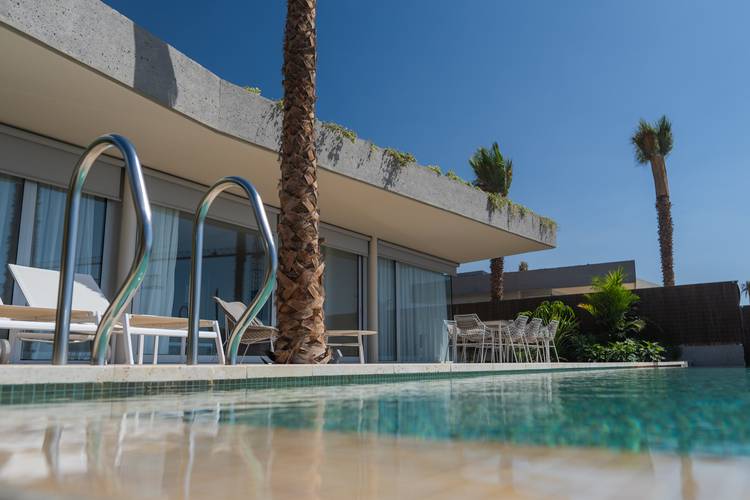 The establishment located in Guía de Isora launches 'Las Villas del Tenis', luxury two and three bedroom touristic villas with private swimming pools and all the five star services of Abama Hotels, as a new accommodation offer

The south of the island of Tenerife has added new two and three-bedroom private villas with private swimming pools, designed by prestigious architects of international renown, to its increasingly wide range of luxury hotel accommodation. These are Las Villas del Tenis, in the hotel Los Jardines de Abama Suites, where guests now have at their disposal a new concept of luxury holidays at the resort operated by My Way Meaningful Hotels.

Las Villas del Tenis comprise a set of exclusive two and three bedroom villas, with private heated swimming pools, covered garage, top quality finishes and decoration, and breathtaking panoramic views.

According to the trends, the new luxury for the high-end traveller is space and being able to enjoy a holiday with family or friends in privacy with all kinds of services; Las Villas del Tenis offer all of this.

The enviable climate, with an annual average of 21ºC and 4,800 hours of sunlight per year, and access to one of the best beaches on the island, are just some of the added attractions for booking these villas, which are already the new jewel in the crown of Abama Hotels.

If there is one thing that is striking about this new accommodation offer from Los Jardines de Abama Suites, it is the role played by the lush nature of the resort, its landscaping and the gardening of the villa itself to promote its integration with the tropical vegetation of the destination. With landscaped roofs, guests who have the privilege of staying in them will be able to enjoy a natural panoramic view from any villa and a sensory view of the nature of the whole complex.

Careful architecture and exclusive interior design

Las Villas del Tenis are staggered on the terrain in terraces, creating clean, open viewpoints of exuberant nature, which allow the perspective of each one to be respected. Spectacular views open out from each villa over the golf course, stretching as far as the Atlantic Ocean and disappearing behind the silhouette of La Gomera on the horizon.

All the 5* star services offered by both Los Jardines de Abama Suites and Las Terrazas de Abama Suites are available to guests of this exclusive collection of villas. Its gastronomic offer includes the Melvin restaurant by Martín Berasategui and an exquisite gourmet shop for food lovers, as many will not want to leave these little oases after leaving their children to enjoy the Abama Kids Camp. Yoga, Pilates, a complete gym and a wellness offer, invite you to take care of yourself inside and out in this corner of Tenerife. Besides, it also offers for the sportiest the possibility of practising your swing at Abama Golf or your backhand at Abama Tennis, a complex that, due to its nearby location, gives its name to the new luxury villas.

The grand finale to Las Villas del Tenis, a project signed by the prestigious architects Virgilio Gutiérrez and Eustaquio Martínez, is the decoration of each piece of accommodation developed by the prestigious Catalan interior designer Rita Rosés. Warm spaces, with an abundance of light colours and top of the range furniture, with modern and timeless touches, from prestigious brands such as Andreu World, Kettal, Metalarte or Punt, make guests feel, more than spending a holiday in a luxury tourist villa, that they are in a home specially designed for them, the home of their dreams.