French tennis legend, Henri Leconte, enjoys a few days at Las Terrazas de Abama Suites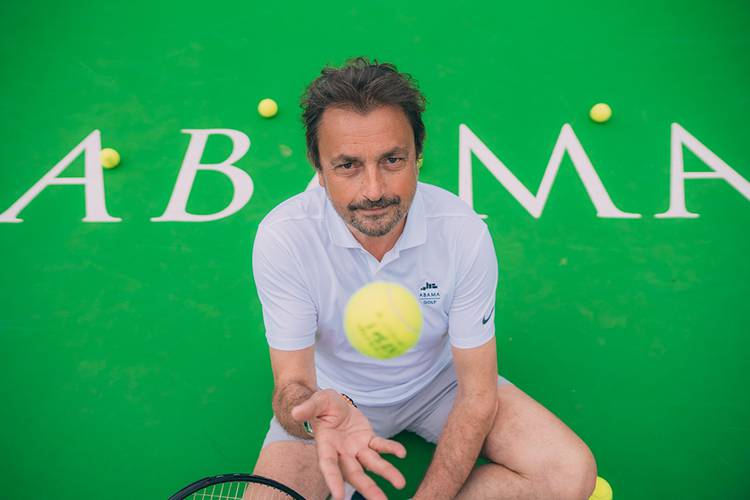 The sportsman, considered as one of the best in the world in his day, enjoyed the courts at Abama Tennis Academy and also catered to another of his passions: playing golf

Henri Leconte (Lillers, 1963), a French tennis legend during the 80s and 90s, has just sent some days lodged at Las Terrazas de Abama Suites in Guía de Isora. During his stay, the athlete was able to try out the spectacular courts of the Abama Tennis Academy, where he was in the mood to play several friendly matches.

Abama Resort Tenerife is an exclusive destination that provides its visitors alternatives to favour and encourage sport, wellbeing and healthy habits. The resort not only has the Abama Tennis Academy, where official competitions have recently been held by the ATP and the WTA, but also Abama Golf, one of the best courses in the whole of Europe, as affirmed by the Gold Digest magazine, the most prestigious in the sector.

This offer is consolidating Abama as an ideal destination for amateur, and also professional athletes. That was undoubtedly the main attraction for the renowned tennis player Henri Leconte to decide to spend a few days in southern Tenerife. He personally recognised that tennis has been his passion and profession, although he has played golf since his childhood, a sport he considers "a perfect complement".

In his time, Leconte was considered the fifth best player in the world, after having won 9 ATP titles and been on the French team that won the Davis Cup in 1991. Another of Leconte's sports successes, dating back to 1988, is when he was runner-up in the Roland-Garros, where he was eventually beaten by the Swede, Mats Wilander. The tennis player retired in 1996, but he is still a very popular character in France, due to his extroverted, spontaneous nature and his appearances on television as a sports commentator. Moreover, he now has his own tennis academy in Fez, Morocco.