Playa Abama in Tenerife, a natural setting for the Marino Barcelona swimwear line by Cesc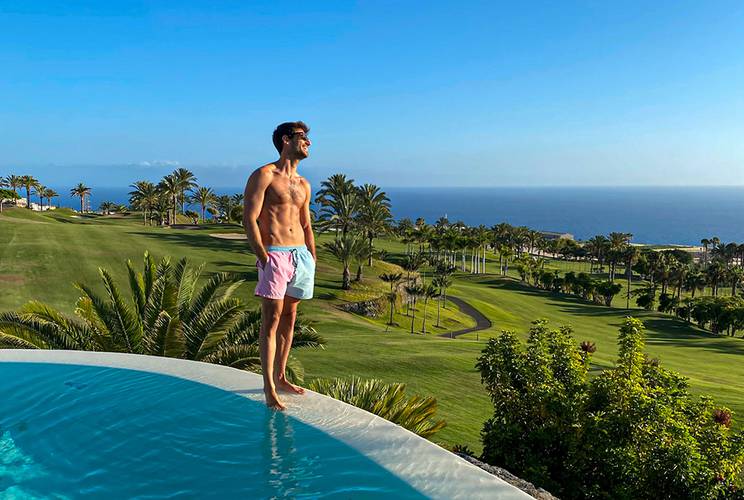 Fitness trainer and television presenter Cesc Escolà has always had a close connection to the world of fashion. We saw this when he burst onto the Spanish television scene as a contestant on Operación Triunfo 2020 and as the host of the TV program "Muévete en casa" on channel 2, connecting with millions of viewers and repeating his now famous phrase, "smile and make believe" as he led the exercises with joy and rhythm in his hallmark pink socks.

Now, in collaboration with Marino Barcelona, he has launched his first swimwear line for women and men in his favourite colours, which is available on the Catalan brand's website under the brand name 'Marino by Cesc'. There are four different Escolà designs: two bermuda type, quick-drying men's swim shorts, with side pockets; a reversible bikini with a curtain type triangle top and adjustable straps to fit any female figure; and a reversible top and Brazilian bottom set, also in two colours, which are sold separately to complement the bikini pieces.

If you're one of those people who likes to match your clothes with your partner's, you're in luck. Cesc Escolà, in line with a growing movement that originated in the trend-setting country of South Korea, known as keo-peul-look or matching couple, one of the men's swim shorts comes in the same shades of pink and light blue as the two bi-colour bikinis.

For those who like to be different, Escolá offers a pair of bermudas with a similar design in fluorescent fuchsia.

The fitness trainer, who spent a few days this summer at the Abama Resort Tenerife, thanks to his collaboration with the digital magazine Objetivo Bienestar with Abama Wellness Week and Turismo de Tenerife, took advantage of his stay to pose with his designs at the five-star Las Terrazas de Abama Suites, where he was staying for a few days, and Abama beach, whose sand can be seen around the globe in the latest video clip of the famous Colombian singer Shakira titled Don't Wait Up.

Abama Resort sits on 162 hectares and offers a wide range of villas and apartments in an exclusive enclave featuring sport, gastronomy and leisure, with a golf course, a top-notch tennis club, an outdoor kids' camp and a beautiful beach. Next door are the Las Terrazas de Abama Suites, managed by My Way Meaningful Hotels, which will soon open a new establishment under the name of Los Jardines de Abama. The destination features the best of Canary Island gastronomy, with 14 fine dining restaurants, including two with Michelin stars and three connected to the multi-award-winning chef Martín Berasategui.

Marino Barcelona is a traditional, family-owned company founded in 2014 and based in Catalonia which is dedicated to the design, manufacture and sale of swimwear, handcrafted shirts for men and boys, reversible facemasks and other accessories. It is known for its exclusive prints and the use of high-quality fabrics. Its products can be found in different multi-brand stores internationally, at its own shop located at Rambla Catalunya, 34, in Barcelona, and on its website: marinobarcelona.com.