Adrián Almirante, new General Manager of Las Terrazas de Abama Suites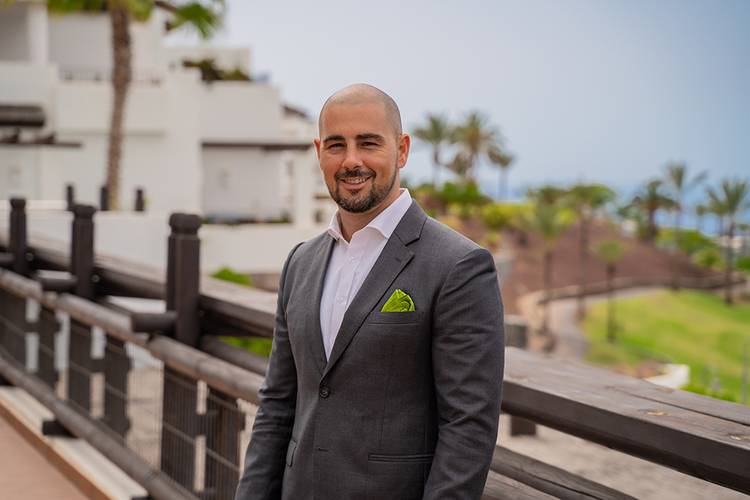 My Way Meaningful Hotels has appointed Adrián Almirante as the new General Manager of the five-star hotel, Las Terrazas de Abama Suites.

The new My Way executive will lead the operation of our 151-suite hotel, part of the Preferred Residences brand, while promoting the sustainable development of its facilities, including the Melvin by Martín Berasategui restaurant, the Sunway pool bar, a juice bar, three swimming pools, an outdoor kids' camp, a gourmet shop, a social club for guests to mix and mingle and a fully-equipped gym with the possibility of one-to-one training and outdoor yoga and Pilates classes.

In addition to these sport-related services, in high demand by our guests, the Abama Tennis Academy will host two professional tournaments this fall, the ATP Challenger and the WTA 250. Moreover, the Abama Golf course is considered the best course in the Canary Islands by Golf Digest magazine and the Leading Courses portal.

The new director of Las Terrazas de Abama Suites is originally from Asturias (Gijón) and has more than 20 years of professional experience in the international luxury hotel sector. For ten of those years he was responsible for five different properties of the prestigious Ritz-Carlton brand in Europe, Asia and the Middle East.

He has also participated with great success in projects located in areas of great touristic relevance, overseeing the operation of establishments in Dubai, Abu Dhabi, Shanghai, Barcelona and Tenerife.

In addition to a diploma in Tourism, Adrian holds a master's degree in Hotel Management from Les Roches Marbella, one of the most important international hotel business schools, which is ranked in the top three worldwide.

Over the last few years, Adrian Almirante has supplemented his training with other post-graduate studies focused on sales, revenue and international business. He has lectured at the Wuxi Institute of Technology and Suzhou University of Technical Application, both located in China, and has participated as a facilitator of programs on quality, service excellence, problem-solving, leadership and team management.