Spend a Luxurious Christmas Under the Tenerife Sun at the Abama Resort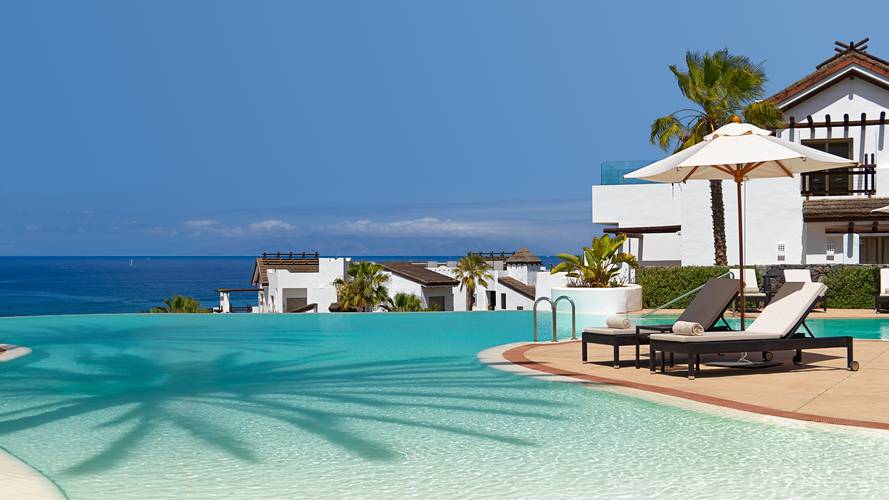 More and more people are choosing to celebrate Christmas in non-traditional ways: far from the winter cold of December, swimming in crystal clear waters, sunbathing on the beach, taking a sunset sailboat ride... all without leaving any members of their families or friends behind.

Without a doubt, one of the best holiday destinations is the Abama Resort Tenerife, with two 5-star hotels that are ideal for groups of travellers: Las Terrazas de Abama Suites and the recently opened Jardines de Abama Suites offer fully-equipped residences and villas for maximum comfort, a world made especially for those who always demand the best for their loved ones.

Just two or three hours from the mainland by plane, Abama, in Guía de Isora, has a mild climate with a year-round average temperature of 23ºC and a dreamlike landscape, where nature and gastronomy combine to make for an unforgettable Christmas holiday.

Without a doubt, Las Terrazas de Abama Suites is a hotel that can satisfy the needs of even the most demanding guests. This luxury resort, with residences ranging from 1 to 4 bedrooms, has a Christmas plan in place for those looking to enjoy a different kind of year-end holiday this year.

The hotel staff has designed a roadmap for guests:

• Two gala dinners on 24th and 31st December at the Melvin by Martín Berasategui. This restaurant has some of the best views in Tenerife, including spectacular panoramic views of the Atlantic Ocean and the island of La Gomera from the restaurant's balcony. The New Year's Eve party will continue into the early hours of the morning and will include live music and dancing.
• There is an optional Kids Camp, where children can have fun playing with their new friends, learning, and enjoying the outdoors while their parents rest or explore the island.
• Personalised pilates, yoga, meditation and training sessions directly in your suite or outdoors.
• If you're looking for more active sports, there are special offers on golf, tennis and paddle tennis at the acclaimed Abama Golf and the Abama Tennis Academy. You can also book biking trips, learn to surf or go jogging in spectacular surroundings.
• A multitude of experiences await you to explore the island in unusual ways: paragliding over the Teide or climbing the highest peak in Spain; learning more about our stars; visiting the wind cave (one of the archipelago's most famous lava tubes); wine tasting at the Alma de Trevejos estate; 4x4 rentals; sailboat rides, helicopter rides and shopping with a personal shopper are just some of the activities available this Christmas.

And for those who want to go even further, Los Jardines de Abama Suites, also at Abama Resort Tenerife, in the municipality of Guía de Isora, has just opened its first villas with infinity and heated pools. For a truly luxurious experience, these marvellous ecological and sustainable residences, measuring up to 200m2 in size with terraces from 22m2 to 116 m2, are tastefully and exquisitely decorated, always to the highest standards of quality.