Abama Resort Tenerife deepens its commitment to natural, socio-cultural and economic sustainability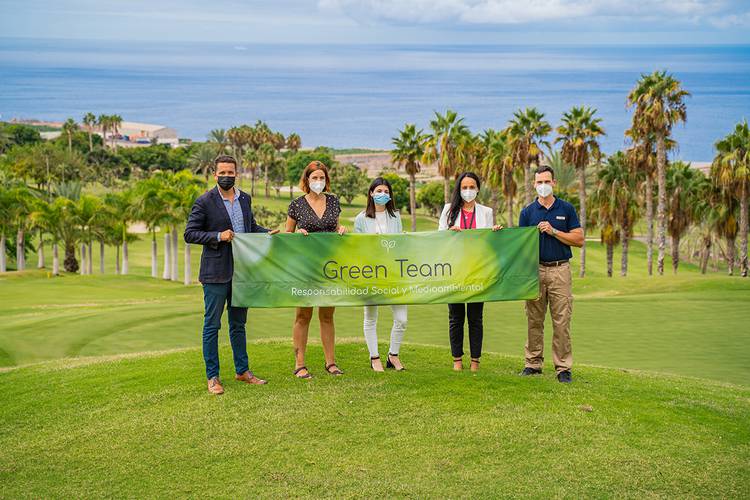 One of the pillars supporting the volunteer work of a group of staff members associated with the various tourism, sport, hotel and real estate products of Abama Resort Tenerife, a destination located in Guía de Isora on the island of Tenerife, is the idea of achieving high levels of environmental sustainability and maintaining a firm commitment to solidarity.

The Abama Green Team, as this group of Abama Resort staff volunteers is called, strives every day to achieve as many as possible of the 17 Sustainable Development Goals of the United Nations and the guidelines established at the Climate Summit. According to Mariana Zúñiga, Director of Human Resources at Abama Resort Tenerife, its core values are "exemplarity, responsibility, commitment and empathy."

Now, in addition, work is underway to create sustainable suites at Las Terrazas de Abama Suites, a 5-star hotel managed by My Way Meaningful Hotels. These rooms will be equipped with ecological "amenities" created by local artisans, which also promotes the economic development of small producers on the island. The sustainable rooms will boast 'zero plastic' and compostable coffee capsules.

Notable among the Green Team's different lines of work is the one developed at Abama Golf, one of the top three golf courses in Spain, which calculates daily irrigation needs based on evapotranspiration data obtained from its own weather station for more efficient, sustainable and individualised irrigation for each area.

"We are introducing the use of natural fertilizers with our own production of ecological products such as worm humus which is obtained by recycling plant waste, as well as the production of plant extracts which are helpful in controlling lawn diseases and pests," according to Mario Arzola, Head Greenkeeper at Abama Golf.

These actions are aimed at reinforcing the corporate social responsibility of the sport complex in an effort to boost the resort's overall sustainability, thanks to which Abama Golf was awarded international environmental certifications in 2017 as well as ISO:14001 and EMAS certification from the European Union. It is also the first golf course in Spain to receive IAGTO quality certification from the World Golf Tour Operators Organization.

These are just some of the actions in the battery of projects undertaken by Abama Green Team as part of its commitment to the environment and support for social causes and solidarity in a year in which, given the devastation caused by COVID-19, the fight for real sustainability and aid to the most disadvantaged is absolutely essential, now more than ever.

As Mariana Zúñiga explains, "In that regard, our purpose is to inspire visitors who come to the island and in particular to Abama Resort Tenerife, to use their leisure time in a conscious way so that we can all collaborate to achieve a better, more sustainable world with less impact on the environment".

In this regard, says the HR manager, the work of the Abama Green Team is essential for setting the sustainability goals and objectives to be achieved each year and for implementing different initiatives, such as the ones already mentioned, and others like collaborating on projects for the protection of birds, cleaning beaches, prioritising the purchase of organic products a priority and Kilometre 0.

Each year, the Abama Green Team also chooses the organisations it will partner with to collaborate on solidarity issues. In this regard, the resort's Abama Solidaria program collects donations which it invests in a variety of projects in the municipality of Guía de Isora and the rest of the island, such as contributions to food banks and actions aimed at helping children and vulnerable elderly people.

One such project in the municipality of Guía de Isora involved the collection of food to assist the neediest families in the municipality that had been affected by the pandemic. Abama Resort Tenerife also donated tablets to the Department of Education to enable children to attend classes online.

"In addition," adds Zúñiga, "we've just finished another fundraising campaign this year to help the neediest families with babies and in August we started to make donations to ÁMATE de Tenerife, an association that fights breast cancer on the island, an incredible organisation that helps and supports women suffering from this pathology and their families."

The Green Team's work never stops, says Zúñiga: "Now, with the eruption of the volcano in La Palma, the neighbouring island, where so many families have been affected, we're already looking at how we can aid and assist with this catastrophe that has left so many people without their property and their livelihoods."

Abama Resort Tenerife is always open to receiving donations from both the owners and guests who enjoy their time at the resort, as well as from individuals or companies. "We are happy to receive any and all support and assistance." It is well worth noting that the donations and the incredible support of our owners, for many of whom Abama is their second home, have made it possible for us to move forward with our solidarity initiatives. Anyone, including guests, owners or employees, can collaborate with us in our work by contacting us through the sustainability section which can be found on the resort's website, where visitors can seen past and future projects", concluded Zúñiga.