Great Hotel Debate: Attracting talent and motivation, keys to the success of Canary Islands Hotels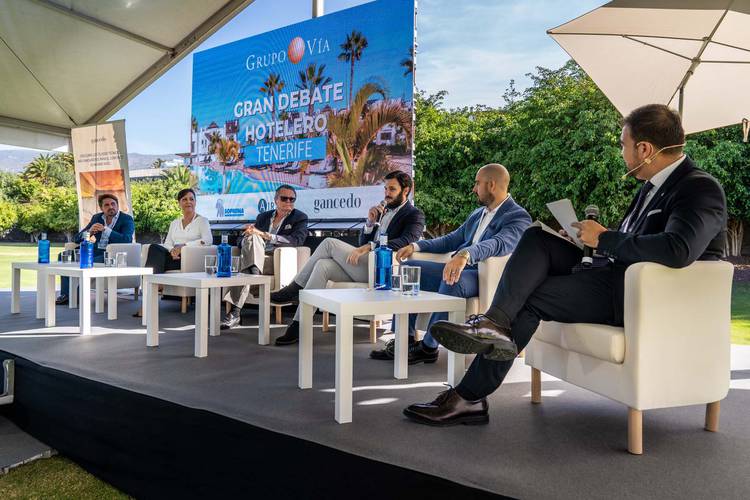 With the theme 'New tourism trends as a means of differentiating destinations', the Events Garden at Abama Hotels played host to the Great Hotel Debate today. The gathering, organized by Grupo Vía, brought together the major players in the industry from across the archipelago

Following the speedy recovery of the Canary Islands tourism industry – considerably outpacing forecasts by institutions, associations and experts – the focus now turns to offering a distinctive, high-quality product, as well as identifying the formula to maintain and improve the profitability of the islands' hotel industry in the face of rising prices. This is where staff talent comes into play. Attracting and retaining talent is becoming a crucial workhorse when it comes to gaining a competitive advantage over the competition.

This is one of the conclusions from the first group discussion at the Great Hotel Debate. Under the title 'Destination Tenerife: New Ways of Generating Hotel Value', the Abama Resort Tenerife Events Garden played host to Jorge Marichal, president of CEHAT and ASHOTEL; Adrián Almirante, director of Abama Hotels; Javier Alique, managing director of Hard Rock Hotel Tenerife; Victoria López, chairperson of Grupo Fedola; and José Fernando Cabrera, chairperson of Grupo Golf Resort; with Mano Soler, director of international school of senior hotel management Les Roches Global Hospitality Education, acting as moderator.

'For us, it is essential to focus on our team's emotional intelligence. It is vital for our employees to be motived, and we must invest in this with in-service training and proper pay. Our employees' ability to create natural bonds with guests helps us to improve the quality of our service and create distinctive experiences connected to the local culture. The aim is to build customer loyalty, for guests not only to return but also to become brand ambassadors,' argued Adrián Almirante in his speech.

'In our case, we are aware that Abama Resort Tenerife is a unique space on the archipelago. But in luxury hospitality, customer expectations are the highest. And when we simply meet expectations, we feel we have failed because we are committed to always exceeding them,' he added.

The Events Garden at Abama Hotels hosted a second round-table discussion, titled 'The Tourist that Does Suit the Canary Islands'. It focused on the tourism model for the Canary Islands in general, and Tenerife in particular, delving into attributes to be strengthened, as well as the importance of preserving the economic, social and environment sustainability of the destination, distinguishing between quality tourism and mass tourism.

The participants were Elodie Casola, director of marketing and communication for Abama Resort Tenerife, who explained the overall possibility of generating business at resorts; architect Leonardo Omar, with various Abama projects; the CEO and founder of Canarian Hospitality, Francisco Fernández; the CEO of Turismo de Tenerife, David Pérez; and the director of sales for Riu Hotels, Maurice Damen.