Melvin by Martín Berasategui reinterprets a traditional recipe with its papas bonitas revolconas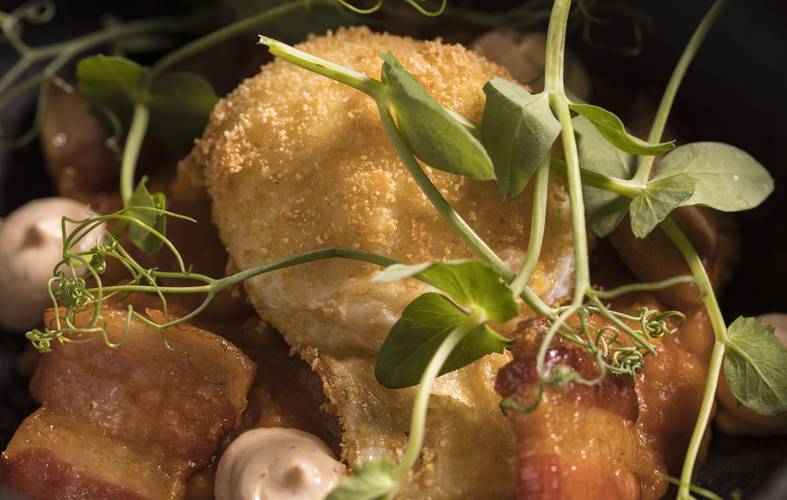 Patatas meneás (also known as patatas revolconas) is a mashed potato dish popular in the provinces of Ávila, Salamanca, Cáceres and eastern Toledo, specifically, the district of Talavera de la Reina. The dish originated in El Tiemblo, where it is also referred to as patatas revueltas, patatas meneadas (meneás) or patatas removidas.

This traditional Spanish recipe is served warm. The ingredients include potatoes and pork products, and paprika lends it a characteristic red colour. Traditionally, it was considered a modest peasant dish, but it has evolved and is now often found on Spanish tapas menus, served in small portions.

In fact, the menu at Melvin by Martin Berasategui – the hotel restaurant at Las Terrazas de Abama Suites in southern Tenerife – includes a recipe inspired by this delicious traditional Castilian dish. It features one of the most iconic ingredients in Canary Islands cuisine, papas bonitas, a potato variety that has been given the haute cuisine treatment to produce papa bonita revolcona with slow-cooked egg and fried bacon.

Melvin's current chef, Sergio Fuentes, has succeeded in turning this traditional dish into a true feast with an island touch. It is served with a panko-crusted poached egg, fried bacon and a sauce that brings together all the traditional ingredients, including red and green pepper, onion, paprika and garlic.

Melvin by Martín Berasategui boasts a unique location: Las Terrazas de Abama Suites, a 5-star Tenerife hotel with views of the sea and La Gomera Island. Guests enjoy access to a beach lapped by crystalline waters amid banana trees and leafy gardens, situated next to one of Europe's finest golf courses. The hotel is managed by My Way Hotels, which also operates Los Jardines de Abama Suites at the same destination, Guía de Isora.

The culinary space opened its doors a little over five years ago, in December 2017, becoming the third restaurant run by the Basque chef at the same destination on the island of Tenerife: Abama Resort Tenerife. Sergio Fuentes has been the head chef at Melvin since 2022. The restaurant menu features a combination of traditional Basque-style meats, fish from the Canary Islands coasts and succulent rice dishes. In 2022, Melvin received the Tripadvisor Traveller's Choice award for the fourth consecutive year.

Fuentes is a young Madrid chef whose professional career has included training at such haute cuisine establishments as the two-star MB by Martín Berasategui, on Tenerife, and the prestigious three-star Azurmendi, by Chef Eneko Atxa. Over the past nine years, Fuentes has cooked with the Berasategui teams on Tenerife at both MB and Melvin, where he was sous-chef before being named head chef.