Sergio Fuentes, new chef at the Melvin by Martín Berasategui restaurant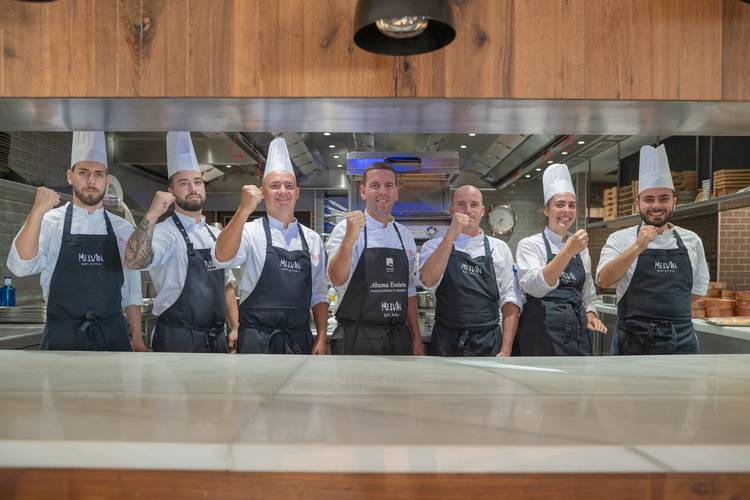 The hotel held the 'Abama Evolution. New savours by Berasategui' event to present the chef and his new culinary offer

Sergio Fuentes (Madrid, 1989) is the new chef of the Melvin by Martín Berasategui restaurant, the prestigious establishment located in the Social Club of Las Terrazas de Abama Suites.

This September, the 5* hotel held an event to present its culinary proposal for this new season, attended by about 60 representatives from the entrepreneur, social, political and gastronomic world of the Archipelago.

Fuentes began his contact with Abama Resort Tenerife very young. At MB**, he carried out his first internship after studying the culinary arts at the Hotel Escuela in the Autonomous Community of Madrid. After that period, he continued his training at the renowned Michelin 3-star restaurant Azurmendi, under Eneko Atxa. From both experiences, he acquired a great interest for a gastronomic project that would combine the avant garde and respect for traditional products from each area, offering a reinvented proposal with his personal touch.

In 2014, he returned to MB**, after receiving an offer from Erlantz Gorostiza, and in 2017 joined the culinary team at Melvin by Martín Berasategui, that was inaugurated that year. Since then, he has worked shoulder to shoulder as sous chef with Diego Dato, who he is replacing as head of the establishment.

Over these years at Melvin, he has become a chef with his own personality, with a deep respect for local products, which he affirms he continues to discover on a daily basis in Tenerife "a different way to approach seafood and products from its market gardens". Fuentes considers it "a privilege to explain his personal interpretation of the exquisite local produce through taste. Our clientele is mainly from overseas and it is an honour to involve them in Canary cuisine, offering them products they are unaware of".

His favourite raw materials are Lanzarote yams, and La Palma pepper, a spice that is always present in his cooking. "I am also a fan of mojo rojo (red spicy sauce), since I first tasted it in Tenerife", he states. "At the restaurant, we prepare dishes that embody the Canary essence such as 'papa bonita revolcona' (scrambled-mashed yams), accompanied by eggs cooked at a low temperature and crispy bacon rashers, or 'tartar of Canary tuna on white cold soup with grape jelly' one of my favourite dishes", he declares.

In this venture, Sergio Fuentes will be accompanied by José Santamaría Benito, as new sous chef, a professional who has had a close relationship with the MB** until now. Together, they will lead the Melvin by Martín Berasategui team formed by 30 people, who work daily to serve the 94 diners who frequent the terrace and dining hall.